menu
IX V IO Sensors
Sensors
An opening and safety sensor for automatic sliding.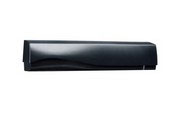 - Simple adjustments using DIP-Switches
- High protection of individuals, thanks to the two 24-infrared spot failsafe curtains (EN 16005)
- Optimum performance thanks to high levels of active, self-adapting infrared immunity.
- Adjustment of the infrared curtain width with the prisms. (curtains of 12 or 24 spots depending on the prism used)
- Mounting height of up to 3 meters.
Users Rating:
5 From 5

(2 Votes )
IX V IO Sensors Detail

- VIO-D combines a motion radar sensor for opening the door with a double failsafe active infrared curtain for the protection of users, in accordance with the EN 16005 standard.
- Design – Improvement of the energy performances of buildings thanks to the unidirectional VIO-DT1, which detects approaching movements and filters out movements moving away: the door closes earlier and reduces heat loss.
- Quality – High level of stability and reliability of the detection area thanks to the planar antenna developed by BEA.
- Opening – "Unidirectional" movement for opening (detects approaching objects)
- Safety – Substantial protection of individuals thanks to the two 24-infrared spot failsafe curtains (EN 16005).
- Installation – Adjustment of the field size from 1x1m to 2x4m area using a potentiometer. With vertical adjustment of the antenna extending the sensing field out 3m from the door. Positioning adjustment of the infrared safety curtains with adjustment using screwdriver.
- Compliance – Designed specifically to meet the highest demands of the world market, VIO-D is EN16005 compliant.
- Reliable – The features of VIO-D make it the perfect choice, whatever the ambient conditions (snow, rain) and the expectations of the end users. Wide detection area gives high user comfort and safety with good detection of approaching lateral movements.
- Suitability – A wall, ceiling or transom mounted motion radar detection sensor with active infrared curtain, ideal for use in Airports, Hotels, Hospitals, Shops and Stores, Libraries, Schools, Office Buildings and Factories.

IX V IO Sensors Comments And Review