menu
Glass connectors
Glass hardware
Frameless Glass connectors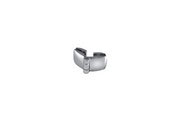 - High quality with commercial price
- Hairline or bright with gold or silver finishing
- They include: wall to glass, glass to glass, glass to glass hinge, etc
- 5 years guarantee
Users Rating:
5 From 5

(5 Votes )
Glass connectors Detail
- View our range of contemporary glass connectors and hinges for shower enclosures (6 and 8mm toughened glass only). Also suitable for internal glass partitions and doors.
- Manufactured from solid 304 grade stainless steel with a superb satin finish. Suitable for 6 – 10mm thick toughened glass.
- Maximum door weight using 2 hinges 15kg or 3 hinges 20kg.
- Maximum door width using 2 hinges 800mm or 3 hinges 950mm.