menu
Movable glazed partitioning
Glass hardware
Movable glazed partitioning incorporating KDR Series frameless glass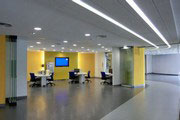 - 55mm in height.
- Elegant design for 10 mm or 12 mm glass use.
- Easy and quick installation.
- This type can be used for fixed panel too.
- 5 years guarantee
Users Rating:
5 From 5

(5 Votes )
Movable glazed partitioning Detail
- Movable glazed partitioning incorporating KDR Series frameless glass hangers, create doors or glass partition walls that offers clients, architects and designers the ability to create innovative working areas allowing light to flow through your space.
- A cost effective and secure, yet stylish method to separate work areas. The use of simple or complex designs in frosted finish create stunning and beautiful effects, providing your customer with a unique glass partition finish.
- Functional in design, allows quick installation, creating a seamless perfect end result.
Movable glazed partitioning PDF Files
row
Description
Format / Size
Download / View
Movable glazed partitioning Price